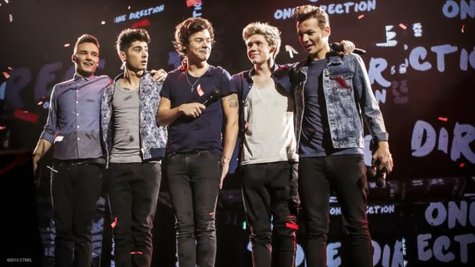 One Direction is hard at work on their new album, but since they're on tour, they've been forced to do a lot of recording in hotel rooms...which is why they've been forced to ask the hotel staff for help if they happen to need a guest vocalist.
Speaking to the British paper The Sun , Harry Styles reveals that while recording the album, they found themselves in need of a female voice -- specifically, a female voice making a, uh, "bedroom noise." "We needed, y'know, a groan on one of the songs," says Harry. "So I asked a lady at the hotel to record [it]. She was nervous at first, but soon got into the swing of it."
But recording your album in a hotel room has some disadvantages, too -- sometimes, as Harry explains to The Sun , the hotel employees did more harm than good.
"We'd be recording the best vocal ever -- you're thinking, 'I'm really smashing this!'" laughs Harry. "And then there'd be a huge knock on the door and you'd get, 'Room service!' or 'Housekeeping!' We'd be, like, 'Nooooo!' and have to start again!"
Copyright 2013 ABC News Radio