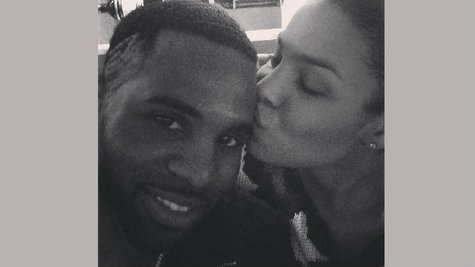 Ever since Jordin Sparks and Jason Derulo started dating seriously, there's been constant speculation about if and when they'll get engaged. According to Jordin, the couple has discussed it, and she's said she'll be ready when he is. He insists she's not pressuring him about it...but everyone else seems to be.
Asked how he deals with being asked by reporters about a possible engagement at nearly every public appearance, Jason tells ABC News Radio, "It's a lot of pressure. But I understand, and I understand how the media works, and I get it. But it'll happen when it's supposed to happen, y'know what I mean?"
Jason won't pretend that his and Jordin's relationship is perfect, though. In fact, he says when they collaborated on each others' upcoming albums -- Jason's disc Tattoos is due September 24 -- they got in each others' faces a bit.
"I'm not really used to not having full control, so it was very different for me and I'm sure it was very different for her," he says of their time working together on new music. "We kind of, like, butt heads a little bit, y'know. I'm like, 'This sounds good,' she's like 'No, no that doesn't.' And then she's like, 'Well, maybe we should do it like this.' I'm like, 'Nah, that's not right.' So we got a little bit of tension happening in the studio."
Jason adds, "All in all, we made some really good stuff, but, I think that's when we have our biggest fights is in the studio."
But those fights haven't put Jason off of listening to Jordin's music. She's said that she likes to work out to his music, and when asked if he does the same, he tells ABC News Radio, "I do -- absolutely," adding, "[I] listen to her music on the plane. It gets me through some really boring times sometimes: just put her music on, and I feel great."
Meanwhile, Jason's released a new single for the U.K. that's getting a lot of attention here. It's called "Talk Dirty," and he says of the racy track, "It's just a shocking song...People will be thinking 'Hmm, really?!' It's very out there, but it was so fun." A video for the single will debut early August.
Copyright 2013 ABC News Radio