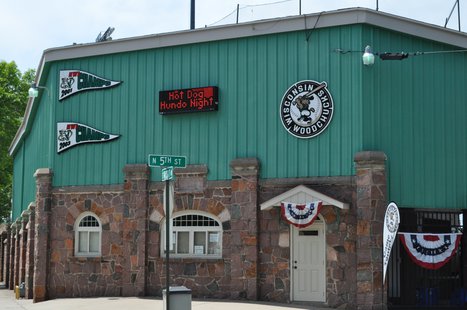 EAU CLAIRE, Wis. (WSAU-Woodchucks) - The Eau Claire Express used nine runs in the first two innings to defeat the Wisconsin Woodchucks 11-4 and claim the three-game series two games to one.
The Express would get the action rolling right away in the bottom of the first against the Woodchucks pitching staff. In the frame, the Express plated three runs, two on a single by Mike Porcaro, to claim an early 3-0 lead.
The lead would grow in the bottom of the second. Porcaro provided the highlight of the inning again, this time a three-run triple to left-center field. The triple would give Porcaro five RBI's in the game. All-told, the Express scored six additional runs to make the lead 9-0.
After the Express tacked on one more run in the third, the Woodchucks offense would get on the board in the fifth. John Menken hit a chopper past the Express starter Taylor Lehnert for an infield single. In trying to throw Menken out at first, Lehnert threw the ball to right field, sending Menken to third base. Menken would later score on an error by Porcaro, giving Kirby Taylor an RBI and making the Express lead 10-1.
The Express tacked on another run in the seventh on a Tim Zier home run before the Woodchucks got back on the board in the eighth. The Woodchucks would score three more runs in the inning, aided by a pair of Express errors. Levi Meyer and Rob Bennie would pick up RBI's as the Woodchucks drew to within seven runs.
It was not to be for the Woodchucks, though, as Taylor Lehnert turned in a great start for the Express. The right-hander completed eight innings, allowing only one earned run on seven hits in recording his sixth victory of the season.
The Woodchucks will head back home to Wausau tonight to take on the Thunder Bay Bordercats. First pitch is scheduled for 5:05 with the gates opening at 4:05.