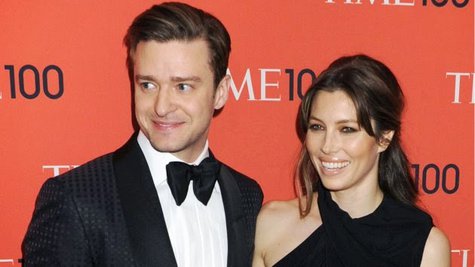 Last October, fans enjoyed seeing wedding photos of Justin Timberlake and his new bride Jessica Biel. But it turns out that there are some folks out there who'd really love the opportunity to see the couple out of their wedding clothes, and in their marital bed.
Justin and Jessica came in at #1 in a poll conducted by adult film company Vivid Entertainment asking which celebrity couple fans would most be interested in seeing star in a sex tape. They got nearly 21 percent of the vote, besting second-place finishers Jennifer Aniston and fiance Justin Theroux . Brad Pitt and Angelina Jolie came in third, followed by Prince William and Kate Middleton , and, surprisingly, Ellen DeGeneres and Portia de Rossi.
However, Justin didn't place anywhere near the top in the part of the survey which asked respondents which male actor fans would most like to see in a "filmed sex romp." Ryan Gosling came out on top in that poll, followed by Brad Pitt and Channing Tatum .
What sort of people took this survey? Judge for yourself: 91.9 percent of them said they'd love to watch a porn film being made.
Copyright 2013 ABC News Radio