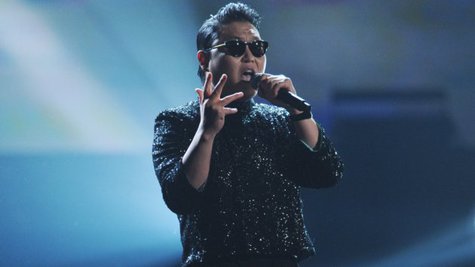 "Gangnam Style" rapper PSY seems like such a goofy guy in all his videos and TV appearances that it's somewhat shocking to hear that he apparently is a habitual drinker.
Speaking to the London Sunday Times , the South Korean rapper says that Korean vodka is his "best friend," but says he'll down "whiskey, vodka, tequila, whatever." Just how much does he drink? "If I'm happy, I'm drinking, if I'm sad, I'm drinking. If it's raining, I'm drinking, if it's sunny I'm drinking. If it's hot, I'm drinking, if it's cold, I'm drinking," he tells the Sunday Times.
When asked if there's ever a time he's not not drinking, he says, "When I'm hung over." And how often is that? "A lot," says PSY.
As for what's driving him to drink, part of it his insane schedule: flying around the world non-stop promoting his music. According to the Sunday Times , he hasn't seen his wife or twin daughters since April. "Being apart is never good," he says. "As a father, I want to see my kids as many days as possible. But as a composer and performer, emotion wise, I have to live like a single man."
There are also some bad memories of his pre-global-stardom life. PSY opens up in the interview about his abusive dad, who continued to hit him even after he became an adult, until he wrote a song about their relationship in 2006. The rapper also reveals that he went to prison for 25 days in 2001 for pot possession, and his parents refused to bail him out. "It's not a nice memory," he says. "There are no nice jails [in Korea], O.K.?"
And if all that isn't making him want to down a few, get this: he still hasn't gotten the lion's share of the money he's earned from having one of the biggest worldwide hits of the past few years. "I'm still waiting," he tells the paper.
Copyright 2013 ABC News Radio