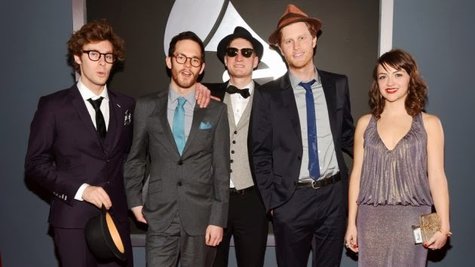 The Lumineers are a modern band, but their music sometimes seems as though it belongs to an earlier time. Perhaps that's why the band has been tapped to create music for Reign, a new CW series set in 1500s.
Reign tells the story of Mary Stuart , the real-life woman who became Mary, Queen of Scots. Of course, this being the CW, the show isn't going to stick strictly to the history books: the cast is young and gorgeous, and there are love triangles, sex and, yes, contemporary music, specifically from The Lumineers.
The show's executive producer Laurie McCarthy told reporters at the Television Critics Association Press tour on Tuesday that the band has written an original song for the show's pilot, and that they'll "continue to stay involved" with the series. "Most of the music we wind up using has a little bit of a sort of Celtic feel to it," she explains. That definitely describes the "Ho Hey" band's songs.
Reign will air Thursdays at 9 p.m. starting this fall, right after The Vampire Diaries.
Copyright 2013 ABC News Radio