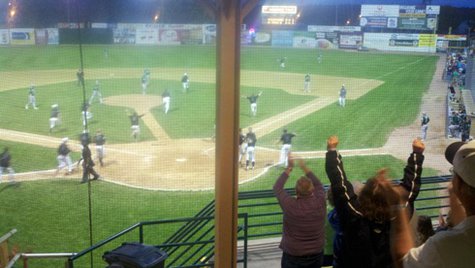 WAUSAU, Wis. (WSAU-Woodchucks) - The Wisconsin Woodchucks fell to the Thunder Bay Border Cats as the Border Cats used five home runs in the contest to win 14-7.
The Border Cats struck first in a loud way as Dylan Becker hit a three-run home run in the top of the third inning that brought home Dylan Goodman and Ty Stetson with the blast to take a 3-0 lead. The Woodchucks took advantage of two Border Cats' errors to tie the game up at three. Edgar Figueroa came in from second base on a grounder to short hit by Kyle Haen. Haen reached base thanks to an error by the shortstop and then an error by Thunder Bay catcher Dylan Goodwin allowed Figuroa to score. The very next at bat new Woodchuck Mikole Pierce hit a homerun over the left field wall to bring home Haen and tie the game up 3-3.
The Border Cats responded with a pair of home runs in the top of the fourth inning. Goodwin would make up for his error earlier in the game as he hit a solo homerun to left field. The Border Cats weren't done there when Becker came up again with two runners on and delivered with another three-run homerun to right field to give the Border Cats a 7-3 lead.
Beck would come home again this time scoring from second base thanks to a single that got through the right side of the infield by Philip Lyons to give the Border Cats an 8-3 lead. John Menken came into score when Ryan Gerber grounded out to short to cut the lead 8-4.
The Border Cats again would respond by way of the long ball. This time it would be a grand slam by Tyler Duplantis over the center field wall to distance the lead even further 12-4. The Woodchucks tried to crawl back and rally in this game as they scored three runs in the bottom of the eighth inning thanks to a three-run home run by Levi Meyer cutting the lead 12-7. Another long ball for the Border Cats by Adam Collins gave them a 14-7 lead which would be the final in the contest.
The Woodchucks and Border Cats totaled for seven home runs all together in Tuesday night's game. Interleague play will continue tomorrow night as the Duluth Huskies make their way to Athletic Park. It will be the first of a two-game series between the Woodchucks and Huskies. First pitch is set for 6:35. You can listen to the Woodchucks on Fox Sports Wausau WRIG 1390 AM and 93.9 FM.