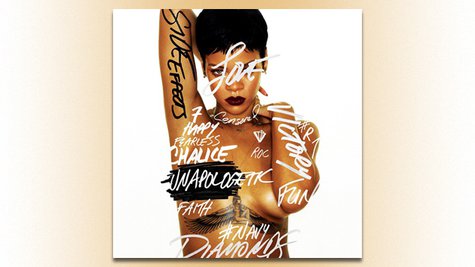 Rihanna's struck platinum once again. Billboard reports that according to Nielsen Soundscan, her latest album, Unapologetic , has crossed the one million sales mark, making it her sixth platinum album.
Unapologetic is Rihanna's seventh album, and her first to hit #1 on the Billboard album chart, thanks in part to the massive hits "Diamonds" and "Stay." It reached the platinum mark in 27 weeks; Rihanna's previous disc, Talk that Talk , took 43 weeks to reach the same total.
Of Rihanna's seven albums, all but one of them -- her debut, Music of the Sun -- have sold platinum or more. That one has "only" gone gold. Her best seller remains 2007's Good Girl Gone Bad , which has moved 2.8 million copies. It features the smash singles "Umbrella," "Don't Stop the Music" and "Hate That I Love You."
Copyright 2013 ABC News Radio