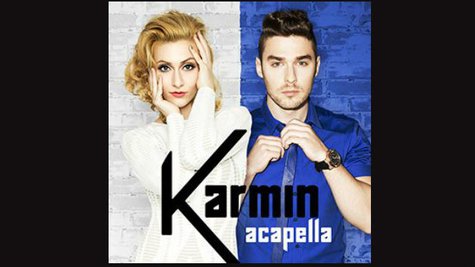 Karmin 's been around for a while now, but they still haven't released an actual full-length album. Now, the engaged duo has announced plans to finally do so, later this summer, and they're introducing it with a brand new single.
The lyric video for the song, "Acapella," is now posted on RollingStone.com , and it'll be available at all digital retailers on June 25. Despite its title, the song isn't entirely "a capella" -- the word is simply used as a metaphor for going solo, after dumping a bad boyfriend.
"Used to be your baby/used to be your lady/thought you were the perfect lover," sings frontwoman Amy Heidemann . "Now you're talkin' crazy/saying that you made me/like I was your Cinderella/You and me are through, though, watch me hit it solo/Imma do it acapella."
In a statement, Amy says, "We flipped the original meaning of acapella to mean 'D.I.Y.' or should we say 'D.I.A. - Do It Acapella!'"
In July, Amy and her musical partner and finance Nick Noonan will hit the road with the Jonas Brothers. Before that, on June 30, the duo will perform at the Minneapolis Gay Pride festival.
"Acapella" follows Karmin's two previous singles, "Brokenhearted" and "Hello," which were taken from their 2012 EP, Hello .
Copyright 2013 ABC News Radio