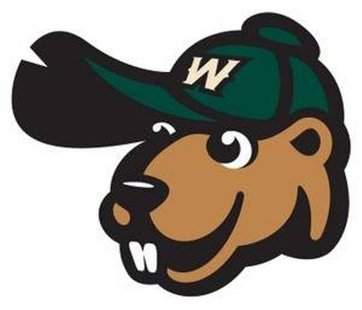 BATTLE CREEK, Mich (Woodchucks-WSAU) The Wisconsin Woodchucks used a six-run eleventh inning to take down the Battle Creek Bombers 9-5 and reclaim first place in the Northwoods League South Division.
The Woodchucks had not held a lead in the entire series until the top of the eleventh. With runners on first and third and no outs, Jake Peter singled to bring home Tyler Adams and put the 'Chucks on top 4-3. The 'Chucks would go on to add five more runs in the inning, aided by three Bomber errors to take a 9-3 lead.
The top of the Bombers order would be a thorn in the side of the Woodchucks for a second consecutive night. In the bottom of the first, back-to-back singles by Cam Gibson and Jordan Winawer put runners on the corners with no outs. Derek Hasenbeck hit into a 6-4-3 double play, but it would allow Gibson to score to put the Bombers up 1-0.
After Woodchuck starter Dan Weigel was able to keep the Bombers off the board for the second and third innings, the Bombers would strike again in the fourth. With a runner on first and one out, Kade Scivicque doubled to deep right-center to score Mark Weist and make it 2-0 in favor of Battle Creek.
Bomber reliever Alex Tukey would come on in relief of starter Nate Walker, who went two-and-two-thirds innings, and hold the 'Chucks off the board all the way until the top of the seventh. With runners on second and third and two outs, Matt Tellor did it again. This time, he hit a base-hit to right that brought home Jimmy Correnti and Tyler Stieb and tied the game at two. The RBI's for Tellor were numbers 21 and 22 on the season, twice as many as any other player in the Northwoods League.
The Bombers would take the lead right back in the bottom of the eighth. Matt Fears led the inning off with a walk, stole second base and later scored on a two-out single by Brandon Cable to put the Bombers on top 3-2.
With the Woodchucks trailing 3-2 in the bottom of the ninth, they were able to tie the ballgame up. With Stieb on third and Matt Tellor on first and two outs, Madison Carter hit a bloop single to center that scored Stieb, bringing the score to 3-3.
The Bombers would score two runs against reliver Ryan Zweck in the bottom of the eleventh, but it would not matter as the 'Chucks picked up the 9-5 victory to reclaim first place in the Northwoods League South Division. The 'Chucks will head to Green Bay to take on the Bullfrogs Monday night on Fox Sports AM-1390 FM-93.9.
- - - - - - - - - - - - - - - - -
Wisconsin Rapids defeated Lakeshore, 8-6, after rallying from a 4-0 defacit.