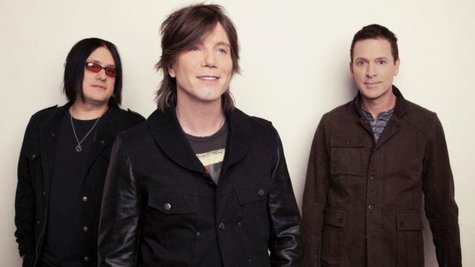 Even hardcore Goo Goo Dolls fans would admit that the band's last album, Something for the Rest of U s, was something of a downer. But the band is back with a new, upbeat attitude on their new disc, Magnetic , which is in stores now.
"I just wanted to write an album that was gonna be fun," frontman Johnny Rzeznik tells ABC News Radio, explaining why the new album is so much happier than the last one. "I was determined that I was gonna actually enjoy myself writing and recording this album. So, we made the right decisions about things this time. We learned from the mistakes of our last album."
Among those decisions was Johnny's choice to co-write songs with several different writers, and for the band to work with a variety of producers. "I wanted to get a lot of other people's opinions about what we were doing and, and sort of bounce ideas back and forth so that there was a fresh perspective coming in the room every few days," explains Johnny. "It worked out really, really well."
The Goo Goo Dolls will be taking their joyous new songs on the road this summer with Matchbox Twenty : a joint tour kicks off June 25. This is the first time the two acts have ever toured together, as surprising as that seems. "Yeah, we can't [believe it] either," says bass player Robby Takac . "But I'm actually kinda glad that, that we waited 'til now to do it. It seems like this was like a great time to pair these two bands up."
He adds, "The response from the press and the ticket sales have been really great. So, it's gonna be a really great summer for us." It'll definitely be a great summer for Johnny Rzeznik: he plans on getting married to his longtime girlfriend in the middle of it.
And speaking of girls, who's the girl on the cover of Magnetic wearing an army helmet and holding what looks like a match between her teeth? "The woman on the front cover just was, like, a very cool image," laughs Johnny. "That's really pretty much it." He adds, "I dunno, we've always had pretty good luck whenever we've had an interesting woman on the cover of our albums, so I'm hoping that our luck continues with this particular one."
Johnny's right: their 1998 album Dizzy Up the Girl had an unusual picture of a woman on the cover, and it was their big breakthrough, producing a string of hits, like "Slide," "Black Balloon" and, of course, "Iris."
As for the title of the album, that doesn't mean anything either: Johnny says the word "just kinda came out of my mouth" when his manager called him and demanded that he choose a title, and insisted that it be one word.
Copyright 2013 ABC News Radio