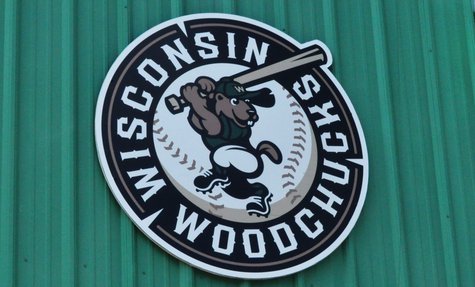 WAUSAU, Wis (Woodchucks-WSAU) The Wisconsin Woodchucks trailed the Green Bay Bullfrogs by three runs during their last at-bats, however a late rally would be followed by a walk-off sacrifice fly by Jake Peter giving the Woodchucks a 5-4 victory.
The first run of the game wouldn't come until the top half of the fifth inning as Jimmy Coady would hit a fly ball into center field that was deep enough to score Trevin Sonnier on the play and give the Bullfrogs a 1-0 lead. Sonnier would reach third after drawing a walk and advancing to third base after a wild throw from Woodchucks' catcher Ian McLoughlin.
The Woodchucks would even things up in the bottom of the fifth inning. Brandon Krieg would get things going with a lead-off double off the right field wall. After a pass ball allowing Krieg to advance to third, he would steal home after Tyler Stieb was caught in a run down between first and second base evening up the score at one.
The Bullfrogs would have a loud answer in the next half inning as Tripp Martin would hit a hanging curve ball from Woodchucks' pitcher Adam Kramer over the left field fence to give the Bullfrogs a 3-1 lead. The Bullfrogs would add one more in the inning as J.D. Crowe would hit the sacrifice fly this time scoring Boomer White giving the Bullfrogs a 4-1 advantage.
Coming up in their final at bat of the shorten game, the Woodchucks would find a little late night magic to win this game. After the Woodchucks loaded the bases they would cut the deficit to two as Jimmy Correnti would hit a single through the left side of the infield. Matt Tellor would then hit a deep fly ball to the right center gap when Bullfrogs' right fielder Bryant Burleson dropped the ball. As a result, Brandon Krieg and Tyler Stieb would come around to score on the blunder tying the game up at four. Jimmy Correnti would also advance on the play which would be key because during the very next at-bat Jake Peter would hit a two-strike fly ball to left field allowing Correnti to score on the sacrifice fly giving the Woodchucks their first walk-off victory.
Earlier in the day, Green Bay won a completed game 4-3, that was initially suspended by rain on Opening Day.
The Woodchucks will be back in action Wednesday as the Lakeshore Chinooks make their way to Athletic Park. First pitch is scheduled for 6:35 on Fox Sports AM-1390 FM-93.9.