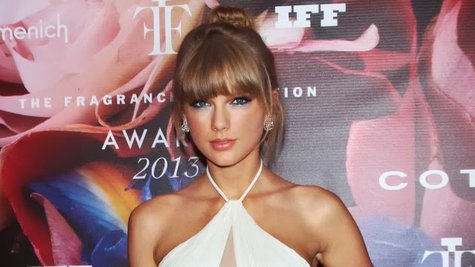 In addition to being global music superstars, Justin Bieber and Taylor Swift are also perfume moguls, with several signature fragrances between them. Both stars were winners at Wednesday night's Fragrance Foundation Awards , which are considered the Oscars of the perfume industry.
Taylor, wearing a flowing white Emilio Pucci halter neck gown, scored the Fragrance Celebrity of the Year award at the event, held in New York City. The honor is given each year to a celebrity who promotes and introduces more consumers to the world of fragrance. Taylor has three perfumes: Wonderstruck, Wonderstruck Enchanted, and a brand-new one called Taylor by Taylor Swift.
Meanwhile, last year's winner of that particular award, Justin, picked up two awards for his perfume, Girlfriend: Women's Popular Fragrance of the Year, and the Consumer's Choice Women's Award, which is fan-voted. In addition to Girlfriend, Justin also has a scent called Someday. A portion of the proceeds from both fragrances go to charity. Justin wasn't present at last night's event.
Copyright 2013 ABC News Radio