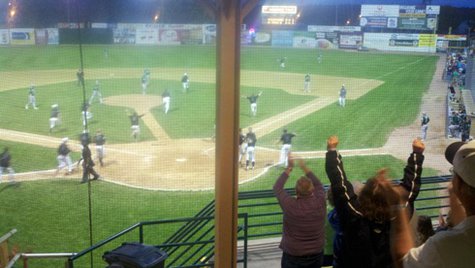 WAUSAU, WI (WRIG-WOODCHUCKS) - The Wisconsin Woodchucks would fall to the Lakeshore Chinooks as a three-run fifth and seventh inning would be too much to overcome as they were defeated 11-4 Wednesday.
The Chinooks would get on the board first in the top half of the second inning after three straight hits. The third hit by Chinooks' left fielder Mikel Mucha would bring Chinooks' first baseman Ryan Krill into score. The Chinooks would get another run in the inning as Travis Enger would sacrifice bunt a run home giving the Chinooks a 2-0 lead.
The Woodchucks would get a run back in the bottom of the second inning as Madison Carter would ground out to short, but Jake Peter would come into score after he reached on an error. Matt Tellor would help give the Woodchucks the lead as he would double down the left field line bringing home Tyler Stieb continuing to build on his Northwoods League lead in RBIs. Tellor and Jordan Devencinzi would then come around to score in the next at-bat as Peter would hit a line-drive single into the left center field gap giving the Woodchucks a 4-2 advantage.
The Chinooks would cut the deficit to one in the top half of the fourth inning as Enger would hit a single to left field scoring Mucha on the play and ending Woodchucks' starting pitcher Zach Rengel's night. In the top half of the fifth inning the Chinooks would rally and never look back in this game. Two walks would start the inning for the Chinooks and Brant Valach would bring them both in as he would hit a double giving the Chinooks a 5-4 lead. They would add another run as Ryan Soldberg would hit a single into right field bringing home Valach on the play.
The Chinooks would add three more runs in the top of the seventh inning breaking the game open 9-4. They would add two more in the top of the ninth inning to lead 11-4 which would be the final score. Chinooks' pitcher Kyle Bouman would continue his stellar season as he would go seven innings, striking out four batters and giving up four run with three of those runs being earned. Those would be the first earned runs that he has allowed this season. For Bouman it would be his second victory on the season.
The loss for the Woodchucks was given to Austin Orewiler after he gave up three earned runs in one and a third innings.