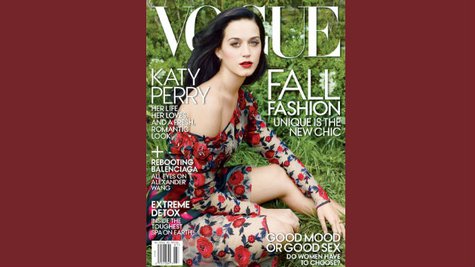 Katy Perry just hit two big milestones: she joined Instagram and she scored her first Vogue magazine cover.
Katy announced her Instagram activity by tweeting a link to her first posting, which was -- you guessed it -- a photo of her Vogue cover. It's the July issue, and Katy looks ravishing with dark hair, red lips and an off-the-shoulder floral print gown with appliqued roses along the neckline. She's seated on the grass, and the cover line reads, "Katy Perry: Her Life, her Loves and a Fresh Romantic Look." The picture was taken by famed photographer Annie Leibovitz .
The cover story will be available online at Vogue.com on June 18. "Leaving pop novelty and broken hearts behind her, Katy Perry has grown into her formidable talent," writes the magazine.
By the way, the fact that Katy just joined Instagram means that the story from a few weeks ago -- you know, the one where she posted a long, heartfelt Instagram message to her fans who were victims of bullying -- was, while well-intentioned, a total fake.
Copyright 2013 ABC News Radio