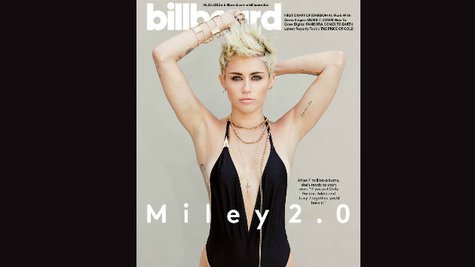 Miley Cyrus' current music is a lot more R&B and hip-hop influenced than her previous work, but don't worry: the woman formerly known as Hannah Montana will not be rapping on her upcoming album. "A lot of people wanted to try to make me the white Nicki Minaj ," she tells Billboard . "That's not what I'm trying to do."
"I love 'hood' music, but my talent is as a singer," the 20-year-old star tells Billboard for its new cover story, saying of her new disc. "It's not a hip-hop album, though -- it's a pop album."
"I'm not coming in trying to rap," she explains. "It's more like, 'I don't see any girls out there doing what Miguel and Frank Ocean are doing.'" She describes her current sound, bizarrely, as a mixture of Dolly Parton , Adele and rapper Juicy J .
Miley's exploration of new sounds is fueled by her desire to leave her previous music behind her, but she says she's annoyed that it's still out there. "Right now, when people go to iTunes and listen to my old music, it's so irritating to me because I can't just erase that stuff and start over," she tells Billboard . "My last record [ Can't Be Tamed ], I feel so disconnected from -- I was 16 or 17 when I made it. When you're in your 20s, you just don't really know that person anymore."
"I want to start as a new artist. I consider my upcoming album my first, really," she adds. And she's got big plans for it.
"I want my record to be the biggest record in the world, and I've given everything to get here, even down to friends and family and relationships -- I've just put this music first," says Miley. "That's been kind of a trip: It's not like I'm losing who I am -- I actually found out more about who I am by making this music."
Miley's as-yet-untitled album will be released later this year.
Copyright 2013 ABC News Radio