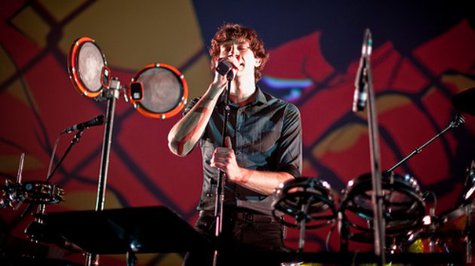 Last year, Gotye was ruling the charts with "Somebody That I Used to Know." Earlier this year, he was scooping up Grammy Awards for the song. So what's he doing now? Playing drums with a band nobody outside of Australia has likely ever heard of.
Before he found worldwide fame as a solo artist, Gotye -- whose birth name is Wally DeBacker -- played drums in a trio called The Basics . Now, Billboard reports that he's rejoined them, and they plan to do an Australian tour in September and October.
"We're doing shows just because we're three friends who haven't seen much of each other for the last few years and we're keen to play music together again. It's as simple as that, really...to enjoy it," Gotye tells Billboard. "Maybe we'll write some new things. It's quite open for me at the moment."
The Basics recently released a new single called " So Hard for You, "which sounds nothing like "Somebody That I Used to Know," by the way. In total, they've recorded four albums, the most recent of which came out in 2010.
As for DeBacker making more music as Gotye the solo artist, he tells Billboard he's not really sure what he'll do next.
"I'm keen to try new things," he explains. "I like to explore, and see what feels like the [right] energy when you fish around. Whether that ends up being a Gotye song or album or a Basics song or album or another project, I don't know really. I'm just trying to do something that feels interesting and exciting."
But hasn't his incredible success changed him, somehow? Gotye says no, "apart from having a bunch of teenagers recognize me in the doctor's [office] this morning, and giggle excitedly and nervously for 10 minutes while I...waited for my appointment."
Gotye admits, "That's one thing that's changed, but I don't know if that's changed me."
Copyright 2013 ABC News Radio