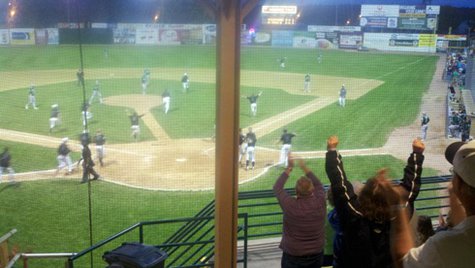 WISCONSIN RAPIDS, Wis. (WRIG-WOODCHUCKS) - The Wisconsin Rapids Rafters were able to defeat the Wisconsin Woodchucks 6-3 in the first game of a double-header despite a three-RBI game by Madison Carter. The game was a continuation of a postponement from Saturday due to rain. Play resumed in the third with the Woodchucks trailing 1-0 after an unearned Rafters run in the first prior to the delay.
With the Woodchucks trailing 3-1 in the seventh, Carter hit a deep fly ball to left for a two-run home run, tying the game at three runs apiece. It was Carter's third home run in the last four games and the sixth of his Woodchuck career, including playoffs.
The Rafters would strike first again on Wednesday. With Saturday's starter Dan Weigel on the mound, Donnie Dewees singled to center to score Taylor Stell and put the Rafters on top 2-0. Dewees would score as well later in the inning on a double by Jonothan Moroney to make it 3-0 in favor of Wisconsin Rapids.
The Woodchuck offense would break through for the first time in the fifth inning. Rob Bennie, making his Woodchuck debut, reached on an error by shortstop George Ragsdale and later scored on a base-hit by Carter to cut the Rafter lead to two runs.
After the Carter two-run home run, the Rafters would break the tie in the eighth. The Rafters scored three runs, all charged to Weigel, to take a 6-3 lead into the ninth inning. That would be all the Rafters would need as they defeated the Woodchucks 6-3 in Game 1.
Game 2 will follow later today.