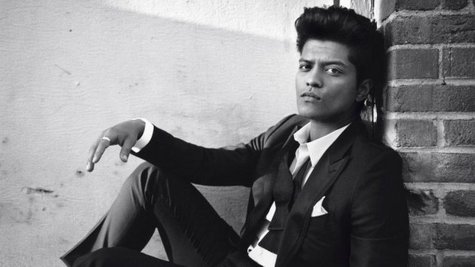 Stars like Madonna and Rihanna have had their concert outfits custom-designed by big names, so why should Bruno Mars -- one of the most stylish pop stars around -- be any different? When he hits the road this Saturday on his Moonshine Jungle tour, he'll be sporting custom designs by Dolce & Gabbana.
According to The Hollywood Reporter , the Italian design duo will provide Bruno with exclusively designed black tuxedos and white button-downs, as well as a bright red suit with an ocelot-printed shirt. That last outfit sounds a lot like the getup Bruno is wearing in his new video for " Treasure ," so perhaps he was trying it out in advance.
The design duo said in a statement, "Bruno's style and music are so eclectic...with time, we have managed to establish with him a relationship of absolute faith in each other, and mutual trust, that allows us to create and work together in an atmosphere of complete harmony." It's some much-welcome good news for Domenico Dolce and Stefano Gabbana , who were just fined and given a suspended prison sentence in Italy for tax evasion.
This isn't the first time Dolce & Gabbana have designed outfits for a pop star's tour or live performance: they've also created looks for Madonna, Mary J. Blige , Kylie Minogue and Beyonce , among others.
Copyright 2013 ABC News Radio