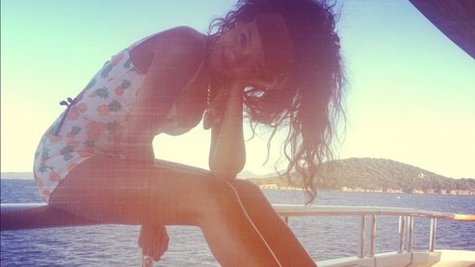 Rihanna certainly seems to be living it up all the time, judging from her Instagram feed, but if a British tabloid report is to be believed, she has quite the party planned for later this summer.
The Sun reports that Rihanna and her model pal Cara Delevingne are planning to drop half a million pounds -- that's more than $700,000 -- to rent a super-luxurious yacht at the end of August, when Rihanna has a break from her tour. The two pals plan to sail around the French Rivera, hitting all the top clubs and restaurants, and then fly to Rih's home country of Barbados to crash.
"Cara and Rihanna have booked the holiday after agreeing they don't need men in their lives to have fun," a source told the paper. "It will be no-holds barred...non-stop booze, and they are already saying they're not going to get much sleep -- maybe a couple of hours each night. They plan to relax when they get to Barbados."
Of course, Rihanna doesn't need to be on vacation to get her party on. She recently raised eyebrows by posting a photo of herself smoking what looks like to be two enormous joints while on tour in Amsterdam.
Copyright 2013 ABC News Radio