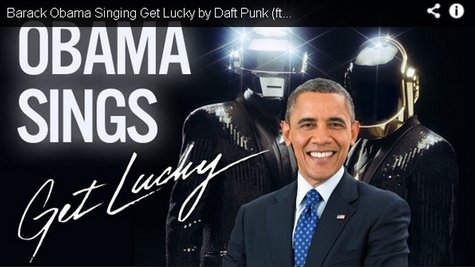 One of the contenders for Song of the Summer 2013 is definitely Daft Punk's "Get Lucky," featuring vocals by Pharrell Williams . In fact, the song is so catch that even President Obama is singing it...sort of.
The people over at the popular Baracksdubs YouTube channel have pieced together a video in which the president appears to be singing "Get Lucky" -- with all the words in the song's lyrics pieced together from his many speeches. That means you can actually see Barack Obama recite, "We're up all night to get some/We're up all night for good fun/We're up all night to get lucky." The video runs for less than two minutes but you get the idea.
The same pranksters have also created videos showing Obama "singing," among other songs, LMFAO 's "Sexy and I Know It," One Direction 's "What Makes You Beautiful" and, of course, "Call Me Maybe."
Copyright 2013 ABC News Radio