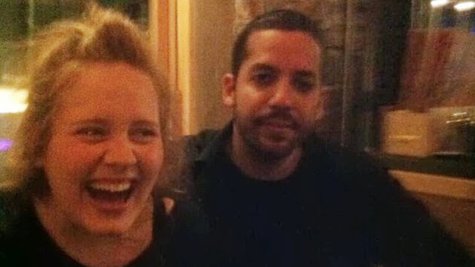 Adele 's been pretty stingy with her Twitter postings this year: after two tweets in February and a few posts in March, she skipped April entirely, and then managed two more in May. But she returned to Twitter earlier this week for an unusual reason: to rave about magician David Blaine .
Adele was in New York City late last week to attend a charity event at which the head of her record label was being honored. She evidently stuck around Manhattan for a few more days, though, because she tweeted , "Just randomly met @davidblaine and he did some magic for us. Never seen anything like it! Blew my mind!"
She also posted a blurry photo of herself with little makeup, sitting in what looks like a cafe with Blaine, with a deck of cards on the table in front of them.
Blaine re-tweeted Adele's message, adding the comment, "love her." Further research on Twitter reveals that the photo was taken at Catch NY , a Manhattan seafood restaurant.
In other Adele news, the rumor mill has cranked up again with the news that she and her baby daddy, Simon Konecki , are planning a "secret wedding." Us Weekly reports that the couple will wed "in the summer or fall," at their home in England, and that Adele is "very involved" in the planning of the event. Of course, this has been reported multiple times before, so take it with a grain of salt.
Copyright 2013 ABC News Radio