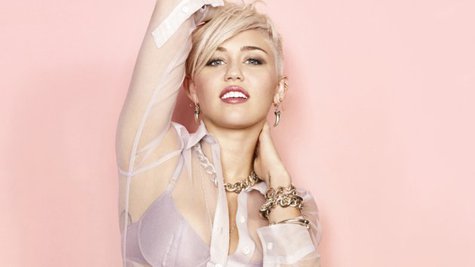 Miley Cyrus flew across country from her interview on Jimmy Kimmel Live! to Good Morning America's Times Square studio Wednesday to perform "We Can't Stop." Her latest hit single is number one in 30 countries and just broke the record for the most-watched music video on VEVO in 24 hours.
The 20-year-old pop star credits her fans -- and haters -- for making the song, and its racy video, a success. The singer also explained that the song is meant to inspire her fans to be who they are .
"I feel like people need to know that we can't stop with everything going on in the world being the way that it is," Miley said on GMA . "I think people just need to hear something that's inspirational, but also it's just about having a good time. And I feel like everyone that's in my age group right now, that's all we're trying to do [is]...have fun, and not stress out and not worry about being judged."
The "We Can't Stop" video, directed by Diane Martel , features Miley and her crew of friends at the most bizarre party ever: the activities include twerking, making out with dolls, chopping off body parts, eating sandwiches full of money, dancing with enormous teddy bears, and a dude making a skull out of french fries.
Many have criticized Miley's video, calling it too racy, but the former Hannah Montana star defended it Wednesday, saying it's inspired by her real life .
"The video is based off of true events, some funny things that have gone down in my life. So it's just been great to let people see that side of me and not just be the glammed-up, beauty shot girl, because that's not who I am. I'm just about having fun," she explained.
And if you're wondering if she's still engaged to actor Liam Hemsworth , Miley bluntly answered, "I'm wearing a ring, so..."
Copyright 2013 ABC News Radio