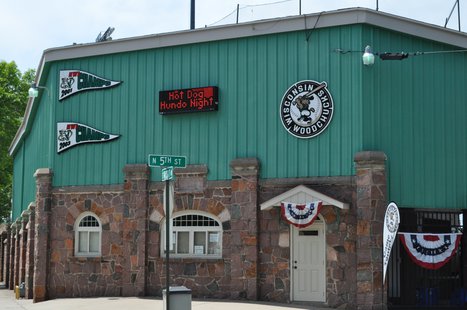 WAUSAU, Wis. (WSAU-Woodchucks) -- The Wisconsin Woodchucks would fall to the La Crosse Loggers Tuesday after La Crosse would score three runs in the first inning which would be enough as they were defeated 5-1. The Loggers would get three runs in the top of the first inning after eight straight balls allowed runners to reach base. Zack Rivera would bring home Matt Nadratowski with a RBI single to left field to get things started. The Loggers would tack on two more runs after Brandon DeFazio would hit a line drive up the middle to bring home Johnny Bekakis and Zack Rivera.
The Woodchucks scored their only run after Brandon Krieg hit a homerun off the scoreboard in right center field to cut the deficit to 3-1. However, the Loggers would get two runs in the top half of the ninth inning to distance themselves 5-1 which would be the final for tonight's game. The Woodchucks would receive an exceptionable game from their starting pitcher Dan Weigel; however he would receive the loss. Weigel would surrender those three first inning runs but would not give up another run while going five innings as he would strike out seven batters as well.
The win was awarded to Logger's starting pitcher Josh Frye as he would go five innings where he only surrendered one hit while striking out six Woodchucks batters.
The Woodchucks will finish their two-game series against the La Crosse Loggers at Athletic Park Wednesday night. Wednesday night will be the second Credit Union at the Ballpark Night where the first 500 fans will receive a Woodchucks baseball, courtesy of Wisconsin Valley Credit Union. First pitch is scheduled for 6:35 p.m. The gates open at 5:35.