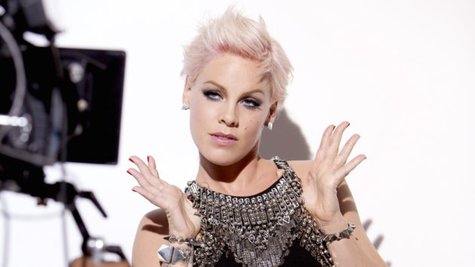 Pink has first major movie role in Thanks for Sharing , a movie about sex addicts that's coming out in September. And in the just-released trailer, she proves that she can add "acting" to her list of accomplishments, alongside singing, songwriting and selling out arenas worldwide.
In the movie, Pink, credited under her birth name Alecia Moore , plays Dede, one of several characters who attend a support group for sex addicts. Sporting platinum blonde hair streaked with blue, we first see her in the trailer at one of the group meetings, noting, "There's a lot of dudes in here. My other program isn't such a sausage fest."
Also in the trailer, we see Pink's character developing a friendship with a fellow sex addict, played by Josh Gad . He forcefully convinces her not to return to her ex for a booty call, and later, he joins her at a dance, where she encourages him to "let your inhibitions run wild." At the end of the trailer, she hugs him and says, "I've never been just friends with a guy before. It's so...hot!"
Pink's co-stars in the film are pretty impressive: they include Gwyneth Paltrow , Mark Ruffalo , Tim Robbins , Joely Richardson and Carol Kane . Thanks for Sharing is due September 13.
The singer has other acting credits to her name. She voiced the character of Gloria in the animated film Happy Feet Two , appeared as herself in Get Him to the Greek , had tiny roles in Charlie's Angels: Full Throttle and Rollerball , and starred in a 2007 horror flick called Catacombs .
Copyright 2013 ABC News Radio