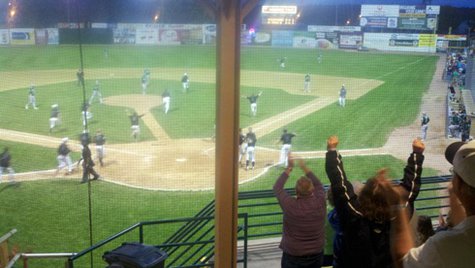 WAUSAU, Wis. (WSAU-Woodchucks) -- The Wisconsin Woodchucks would defeat the La Crosse Loggers on a rain delayed game as the Woodchucks' bullpen would pitch all nine innings in Wednesday's contest to lead them to victory 3-1.
The Woodchucks would strike first in this contest as Rob Bennie would hit a triple to right center field bringing home John Clay Reeves on the play in the bottom of the second inning. Reeves would then score on a close play at home thanks to a sacrifice fly from Woodchucks teammate Austin Diemer. The rain would start to come down after that and both teams were called off the field. After a two hour and fifteen minute rain delay play would finally resume.
In the ninth pitch that Joey Rodriguez saw in his at-bat he would hit a sacrifice fly ball deep enough to center field to bring in Josh Goossen-Brown to give the Woodchucks a 3-0 lead in the bottom of the fifth inning. The Loggers would get on the board in the top half of the fifth inning as Eric Toole would bring home Bobby Juan as Toole lined a double down the left field wall as they still trailed 3-1. That would be the only run that the Loggers would score in the game.
Jackson Lowery would start tonight's game after Woodchucks' starting pitcher Anthony Dixon was a late scratch. Aaron Fossas would come on to pitch after the rain delay and pitched four solid innings giving up the only Loggers' run while striking out five batters and earning the victory. Parker Danciu would record the save as he would pitch three innings giving up zero runs while striking out one batter.
The Woodchucks will travel to Warner Park as they take on the Madison Mallards for a two-game series Thursday and Friday. The Woodchucks will return to Athletic Park on Saturday to host the Eau Claire Express in a three-game series against the 'Chucks. Thursday's first pitch is scheduled for 6:35 p.m., and the gates open at 5:35 p.m.