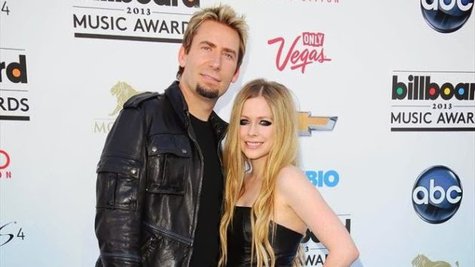 Avril Lavigne started dating Nickelback's Chad Kroeger on July 1, 2012, which happens to be Canada Day, the Canadian equivalent of America's Independence Day. That means the engaged couple's official one-year anniversary is fast approaching, and so is their wedding. The couple will be getting married in the very near future, and Avril says there's one particular thing that she's looking forward to about her big day.
"I can't wait to party!" she laughs. "Any excuse to party, right?" But in all seriousness, Avril tells ABC News Radio that it's the chance to have her loved ones around that's going to make her marriage to Chad special. "Really, just to be with everyone that is important to you and close to you in your life like that -- it's just close friends and family -- I think that's going to be the best part," she says.
"It's always really powerful when those people are all together in that one room and I'm excited for that most," the blushing bride adds.
But enough about emotions...let's talk about the dress. Avril has her own fashion line, Abbey Dawn, so, did she have a hand in designing her dress at all? "I did," she reveals. "I picked one out and changed it up a bit with the designer."
As for the music, Avril says that her and Chad's wedding song might be one that nobody's ever heard before, because they wrote it. The two teamed up to write and record a duet for Avril's upcoming album, but there's an extra one left over. "We have two duets but I'm only putting one on the record," she explains. "I think the other one might be the wedding song."
So, will Avril and Chad romantically sing the tune to one another during the reception, then? "We might sing it," Chad recently told reporters. "We might also dance to it."
Copyright 2013 ABC News Radio