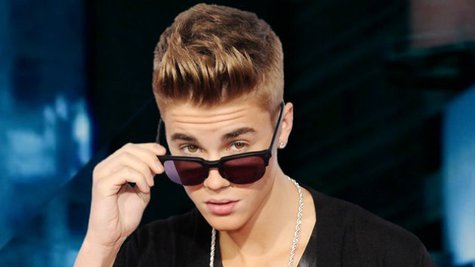 Friday is Justin Bieber 's 19th birthday, but he's already done plenty of celebrating. Following his concert in Birmingham, England on Thursday night, the Bieb traveled back to London, the British paper The Daily Mail reports, where he arrived half-naked at his hotel and then proceeded to party until 6:30 a.m.
For some reason, despite the extremely cold weather, Justin arrived at his London hotel from Birmingham without a shirt, and with his pants nearly falling off him, exposing his white briefs underneath. Photos show his entire briefs-clad butt hanging out, while his pants barely covered his nether regions in the front.
After finding some clothes, Justin then arrived at an after-hours club called BLC, where according to the Mail , he partied with a "bevy of beauties," including 19-year-old British singer Ella-Paige Roberts-Clarke who -- despite her denials -- he is rumored to be dating.
Following several hours of clubbing, Justin and his entourage were feeling a bit peckish -- that's British for "hungry" -- so they headed off to a Lebanese restaurant and chowed down on kebabs until 6 a.m. He arrived back at his hotel around 6:30 a.m., reports the Daily Mail.
But that's not the end of Justin's birthday celebration. On Friday afternoon, he tweeted " Big night ahead" and "Gonna be fun tonight. Thanks to everyone for all the birthday wishes. 19!" The British press has reported that he's planning a huge circus-themed bash for this evening, London time.
Justin also re-tweeted some birthday tweets he received from his mom and dad. "Happy 19th Birthday @justinbieber!! First Bday I'm not with you! Miss u like crazy. Have a good one!!! Love mom. Xoxo," wrote Pattie Mallette . His dad, Jeremy , meanwhile, simply tweeted , "HappyBirthday son!"
Copyright 2013 ABC News Radio