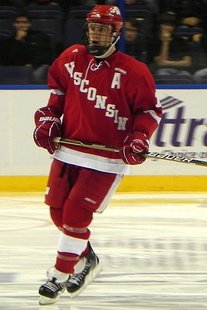 OMAHA, Neb. (WSAU) - Mark Zengerle had a goal and three assists in the Wisconsin men's hockey team's 6-1 rout of Nebraska-Omaha Saturday on the road.That victory gave the Badgers a sweep of the weekend series.
After a bad start to the season, Wisconsin's overall record now is a respectable 16-11-7, including 12-7-7 in the WCHA conference play. Zengerle had a goal in each of the weekend games. The Badgers are in fourth place in the conference standings, four points behind leader St. Cloud State with two games left in the regular season.
Michael Mersch had two goals and two assists in Saturday's win, while Tyler Barnes added a goal and a pair of assists. Joel Rumpel made 27 saves in goal to claim the victory which allowed Wisconsin to leap over UNO in the standings.