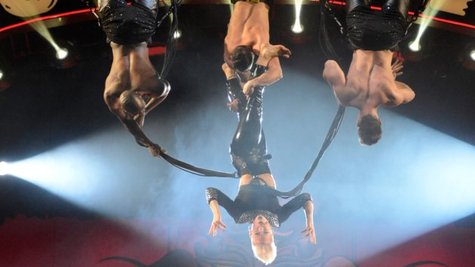 Nearly six years to the day that she opened for Justin Timberlake at Nashville's Bridgestone Arena, Pink headlined the venue for a completely sold-out crowd Saturday concert on her The Truth About Love tour.
Pink commented on the Music City achievement early on in the show, saying, "This is my first big show of my own here not opening for Justin Timberlake or 'N Sync ." She later added, "It's surreal to be in Nashville."
Pink's new stage production certainly offered plenty of surreal moments thanks to her high-flying acrobatic work, starting with the set opener, "Raise Your Glass." She took to the air throughout the show, performing death-defying stunts on "Sober," "Glitter in the Air" and "So What."
Those in the music industry-heavy Nashville crowd especially appreciated Pink actually singing live as she swung through the air. Taylor Swift 's record label president, Scott Borchetta, was spotted in the crowd, and Lady Antebellum 's Hillary Scott was there to see Pink's show again after catching it earlier in the week in Florida.
Pink's concert wasn't all special effects and tricks, though. She mixed some intimate moments into the night as well, recreating the intricate dance number from her "Try" video onstage, and singing "Family Portrait" alone at the piano as photos from her childhood flashed behind her.
Though she's just reached headliner status in the U.S. in the past few years, Pink has been a mainstay at pop radio since 2000. She reminded the crowd of that fact with a medley of early hits "You Make Me Sick," "Most Girls" and "There You Go" from her debut, Can't Take Me Home. Raucous readings of "Trouble" and "U + Ur Hand" kept the party going, and Pink now has so many hits that when she left out one of her biggest singles, "Get This Party Started," nobody really noticed.
Pink may have just reached headlining status in Nashville, but after Saturday night's show, she's definitely earned an open invitation back to Music City any time she wants to visit.
Copyright 2013 ABC News Radio