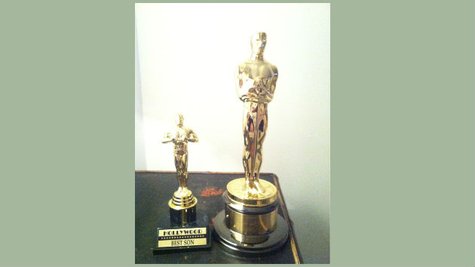 After a whirlwind few weeks that saw her win at the Golden Globes and the Grammys, and perform and win at the Oscars, Adele has finally returned home to the U.K. -- and she brought home a special souvenir for her son's room.
Adele wrote on Twitter, "...and we're home! What an epic trip. Thanks for having us Hollywood!" She also posted a photo of her brand-new Oscar for Best Original Song for "Skyfall," and standing next to it was a miniature replica statuette. On the bottom, it says, "Best Son."
The singer brought her son, whose name is widely assumed to be Angelo , with her for her trip to the U.S., but every time she went out in public with him he was covered up in blankets, so nobody's gotten a good look at him.
Meanwhile, more trips to the Oscars may be in Adele's future. The British tabloid The Sun reports that the James Bond movie producers are so happy with the job that Adele did on "Skyfall" that they want her to do the next Bond theme as well.
"They want her to become as synonymous with Bond as Dame Shirley [Bassey]," a source told the paper. Bassey, who performed on the Oscars along with Adele last month, recorded the themes for three Bond films: Goldfinger, Moonraker and Diamonds Are Forever.
Copyright 2013 ABC News Radio