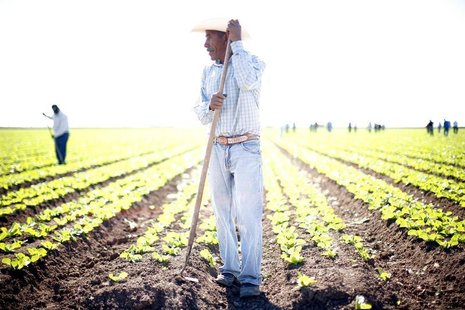 (Reuters) - A U.S. appeals court ruled on Monday on the side of day laborers seeking work in Arizona, upholding an injunction that bars the state from enforcing part of its immigration law that prohibits motorists from stopping traffic to pick up workers.
In the ruling, a three-judge panel of the San Francisco-based U.S. Ninth Circuit Court of Appeals upheld a February 2012 decision by a district judge who granted a preliminary injunction against the provision of the 2010 state law.
"Laws that limit commercial speech must not be more extensive than necessary to serve a substantial government interest," Ninth Circuit Judge Raymond Fisher wrote in his opinion upholding the injunction.
The Arizona law went too far in restricting the commercial speech between day laborers and motorists looking to hire them, Fisher wrote.
The day labor provision was part of an immigration law Arizona's Republican Governor Jan Brewer signed in 2010, seeking to clamp down on illegal immigrants in the state that borders Mexico.
In June 2012, the U.S. Supreme Court struck down much of that law as unconstitutional, including provisions that required immigrants to carry their papers at all times and banned illegal immigrants from soliciting work in public places.
The provision of the law that was before the U.S. Ninth Circuit Court of Appeals related to enforcement of a provision involving the interactions between motorists and day laborers, which the state defended as a necessary traffic safety measure.
(Reporting by Alex Dobuzinskis; Editing by Cynthia Johnston and Andrew Hay)