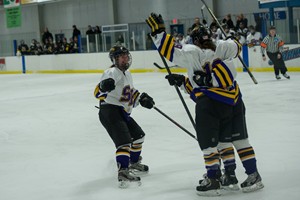 SAINT PAUL, MN. (UWSP) - The UW-Stevens Point women's hockey team had five student-athletes selected to the 2013 Northern Collegiate Hockey Association (NCHA) All-Academic Team for their performance in the classroom this season.
Five women's hockey players land spot on final NCHA All-Academic Team
The honor is given annually to hockey student-athletes who earn a 3.5 or higher grade point average.
Junior Janel Winters (Fairbanks, AK/West Valley) and sophomore Hannah Smith (Spokane, WA/East Valley) both receive the award for the second consecutive season. Smith, a forward from Spokane, Wash., is currently majoring in dietetics. Winters, a defender from Fairbanks, Alaska, is pursuing a degree in biology.
Three other Pointers are receiving the award for the first time; Cassandra Salmen (Stillwater, MN/Stillwater), Nicole Schaub (Vadnais Heights, MN/White Bear Lake), and Allie Tanzer (Chippewa Falls, WI/Chippewa Falls). Salmen, a junior from Stillwater, Minn., is an athletic training major. Schaub, a captain for UWSP this season, majors in business. Tanzer, a forward from Chippewa Falls, Wis., is pursuing a degree in pre-occupational therapy.
The Pointers finished the 2012-13 season with a 12-13-3 overall record, advancing to the semifinals of the NCHA O'Brien Cup Playoffs before falling to UW-River Falls.