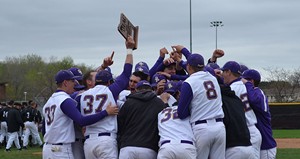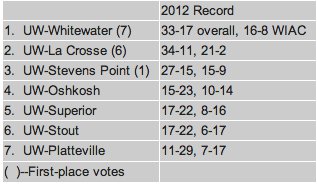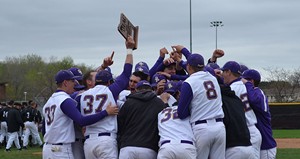 MADISON, WI (UWSP) - The UW-Stevens Point baseball team is expected to finish third in the race for the 2013 Wisconsin Intercollegiate Atheltic Conference (WIAC) accoring to the conference's head coaches and sports information dicrectors, the league office announced today.
Pointers picked to finish third in conference title race
UW-Whitewater was the preseason pick to win the league, claiming seven first-place votes in the preseason poll while UW-La Crosse, last year's outright champion, appeared first on six ballots.UW-Stevens Point picked up the remaining first-place vote and is slotted for third place in the league standings.
The Pointers own nine regular-season titles with the most recent in 2011. UW-Stevens Point finished fourth in NCAA Division III with a .974 fielding percentage in 2012. They led the WIAC with a 3.21 team ERA, marking the 11th straight year they finished in the top three. They have also led the conference five times during that stretch.
Cam Seidl (Appleton, WI/Fox Valley Lutheran), the reigning WIAC Pitcher of the Year, will miss the 2013 season after undergoing Tommy John surgery. Senior Ryan Schilter (West Bend, WI/West) produced a team-leading .370 batting average, .531 slugging percentage, 19 doubles and 36 RBI a season ago. His batting average ranked sixth in the league.
Team Vitals (Entering the 2013 season)
UW-La Crosse
Head Coach: Chris Schwarz; 9th season at UWL; 167-152-1
Letterwinners Returning/Lost: 17/7
Starting Position Players Returning/Lost: 6/3
Pitchers with Starting Experience Returning/Lost: 4/2
Pitchers with Saves Returning/Lost: 2/3
Returning All-WIAC: Brooks Braga, Sr., OF (2011-Honorable, 2012-First); Cole Cefalu, Jr., OF (2012-First); Adam Cordova, Jr., OF (2011-First, 2012-Honorable); Kevin Johnson, Sr., RHP (2012-First); Tim Verthein, Sr., RHP (2011-First, 2012-First)

UW-Oshkosh
Head Coach: Tom Lechnir; 25th season at UWO; 705-278-1
Letterwinners Returning/Lost: 16/8
Starting Position Players Returning/Lost: 7/2
Pitchers with Starting Experience Returning/Lost: 6/2
Pitchers with Saves Returning/Lost: 1/1
Returning All-WIAC: Tyler Kamps, Sr., INF (2011-First); Michael Polcyn, So., SS (2012-Honorable)

UW-Platteville
Head Coach: Eric Frese; 15th season (7th at UWP); 232-344-3 (overall) / 97-143-2 (UWP)
Letterwinners Returning/Lost: 12/15
Starting Position Players Returning/Lost: 8/8
Pitchers with Starting Experience Returning/Lost: 6/4
Pitchers with Saves Returning/Lost: 1/2
Returning All-WIAC: Bill Oppriecht, Sr., RHP (2012-First); Adam Theis, Sr., RHP (2012-Honorable)

UW-Stevens Point
Head Coach: Pat Bloom; 10th season at UWSP; 287-137
Letterwinners Returning/Lost: 18/12
Starting Position Players Returning/Lost: 7/3
Pitchers with Starting Experience Returning/Lost: 5/1
Pitchers with Saves Returning/Lost: 2/3
Returning All-WIAC: Casey Barnes (Mequon, WI/Homestead), Jr., OF/RHP (2011-Honorable); Dan Douglas (East Troy, WI/East Troy), Sr., SS (2011-First, 2012-Honorable); Max Frederick (New London, WI/New London), Jr., RHP (2012-Honorable); Sean Gerber (Stoughton, WI/Stoughton), Sr., 1B/3B (2011-First); Ryan Schilter (West Bend, WI/West), Sr., C/OF (2012-First)

UW-Stout
Head Coach: Toby Gardenhire; 2nd season at UWS; 17-22
Letterwinners Returning/Lost: 16/12
Starting Position Players Returning/Lost: 5/4
Pitchers with Starting Experience Returning/Lost: 2/5
Pitchers with Saves Returning/Lost: 3/1
Returning All-WIAC: Ryan Gangestad, So., SS (2012-Honorable); Matt Guida, Sr., C (2011-First); Santiago Morales, Sr., OF (2012-Honorable)

UW-Superior
Head Coach: Eddy Morgan; 7th season at UWS; 89-146
Letterwinners Returning/Lost: 24/8
Starting Position Players Returning/Lost: 9/0
Pitchers with Starting Experience Returning/Lost: 6/6
Pitchers with Saves Returning/Lost: 1/2
Returning All-WIAC: T.J. Evanson, So., 1B (2012-Honorable); Wyatt Soderquist, Jr., OF (2012-Honorable)

UW-Whitewater
Head Coach: John Vodenlich; 12th season (10th at UWW); 352-152-1 (overall) / 323-112-1 (UWW)
Letterwinners Returning/Lost: 24/9
Starting Position Players Returning/Lost: 7/2
Pitchers with Starting Experience Returning/Lost: 4/4
Pitchers with Saves Returning/Lost: 1/5
Returning All-WIAC: Jared Fon, Jr., INF (2012-Position Player of the Year); Marty Herum, So., INF (2012-Position Player of the Year); Dylan Friend, Jr., OF (2012-First); Justin Lambert, Jr., RHP (2011-Honorable)