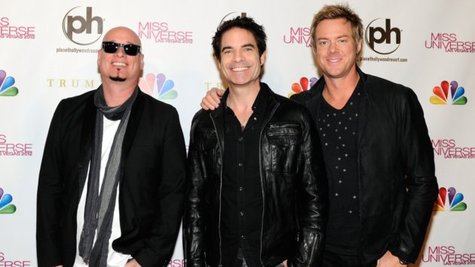 The guys in Train have no interest in wearing wedding dresses -- we assume -- but they'll be appearing Friday night on the season premiere of TLC's Say Yes to the Dress: ATLANTA.
The episode, which is one of two airing back-to-back starting at 9 p.m. ET/PT, features a couple who got married on stage during Train's concert in Atlanta last summer. The bride, Sue , had been widowed after her first husband died suddenly, and she was thrilled to find love again, and get the opportunity to wed on stage at the concert. However, as you'll see in the episode, her idea of a dream wedding gown is very different from what her friends and family want her to wear. You'll see footage from the actual onstage wedding and see the band perform as well.
Getting married on stage at a Train concert isn't really that unusual, actually: it happened pretty much every night during the band's tour last summer. One lucky couple would be selected in advance, and Train drummer Scott Underwood , who got ordained just for that purpose, would join them in holy matrimony. Singer Pat Monahan tells ABC News Radio that the group started doing onstage weddings because so many people were proposing in the audience when they'd play their ballad "Marry Me."
"There were so many people getting engaged," he says. "We would see swells of cheers during 'Marry Me,' because it's a pretty quiet song and we would be, like, 'What's happening?' and we realized there are a lot of engagements. So, we started inviting people to show [off] that engagement, because there's always someone surprised, and that's fun that we're all in on it."
That, says Pat, led to the idea of the band actually marrying people during the show. "We thought, 'OK. What if we took that, like, beautiful moment to a bigger, more beautiful place?'" he explains.

It's not clear if the band will continue the onstage marriages during their upcoming Mermaids of Alcatraz summer tour. The tour gets underway in July with a variety of opening acts, including Gavin DeGraw , The Script , Michael Franti and Ashley Monroe .
Copyright 2013 ABC News Radio