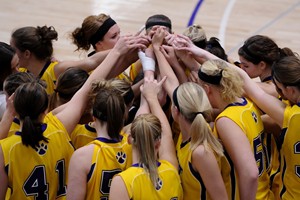 STEVENS POINT, WI (UWSP) - UW-Stevens Point head women's basketball coach, Shirley Egner, recently announced the team award winners for the 2012-13 season, as voted on by the team.
Sam Barber (Schofield, WI/D.C. Everest/Winona St.) was voted Offensive Player of the Year. The senior guard started in all 30 of the Pointers games, averaging a team-high 19.1 points and a team-high 7.5 rebounds, while connecting on 43.6 percent from three, 49.1 percent of her field goals and 78.3 percent from the free-throw line. She also recorded 57 steals, 43 assists and 32 blocked shots, en route to earning her second straight WIAC Player of the Year honor.
This season's Defensive Player of the Year honor went to senior Brooke Allen (Barneveld, WI/Barneveld). The guard, who was named Honorable Mention All-WIAC, started all 30 games and averaged a team-high 30.5 minutes per contest. Allen averaged 6.6 points, 3.4 rebounds, 71 assists, 32 steals and five blocks for the Pointers.
Most Improved went to freshman Autumn Hennes (Kaukauna, WI/Kaukauna). The guard appeared in 25 games for the Pointers, averaging 11.9 minutes per contest and 2.4 points. Hennes shot 30 percent from beyond the arc and 40.4 percent from the field.
The team's most coveted award, the Pointer Award, was given to senior Liz Althoff (Darien, WI/Clinton). The award is given to the women's basketball player who, in the opinion of her peers, best embodies the four quality standards: acts selflessly for the good of the team, enhances team unity, works hard to gain the respect of the teammates and staff members, and displays enthusiasm and passion for the game of basketball. Althoff, named Honorable Mention All-WIAC and received the WIAC Sportsmanship award, played in all 30 games, starting 14 and averaged 24.2 minutes per game. The senior guard averaged 9.4 points and 3.7 rebounds per contest, tallying 42 steals, 41 assists and eight blocks. Althoff led the Pointers from the free-throw line, shooting 83.6 percent, connecting on 107-of-128.
The Pointers finished the season with a record of 24-6, 12-4 WIAC. The team made its sixth consecutive trip to the NCAA Division III Tournament this season after capturing the Wisconsin Intercollegiate Athletic Conference tournament title for the sixth straight season, earning the league's automatic bid to the NCAA tournament. The Pointers advanced to the second round before falling to Simpson College.