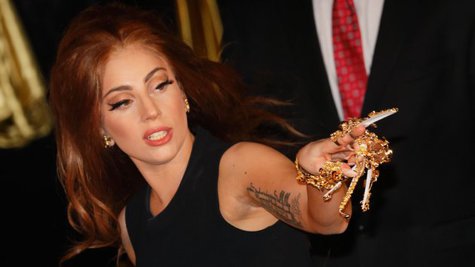 For someone who's constantly in contact with her fans via social medial, Lady Gaga's been strangely quiet lately. The last anyone heard from her was February 21, when she tweeted her thanks to fans for their support during her hip surgery. Then, she dropped out of sight. Now, she's apparently been spotted in New York City -- alive, well and in a wheelchair.
As reported by OK! magazine, burlesque star Dita Von Teese , who was in New York on Sunday night, tweeted that a fashion designer named Alex Mabille had taught her how to say a phrase in French, that she'd just eaten a pretzel M&M, and that she'd just had a "random chat w/wheelchaired @ladygaga." A fan later tweeted that Gaga had been out celebrating her sister's 21st birthday.
Lady Gaga's recovery from surgery, which she underwent to repair a tear in her hip, is expected to take several months. Her new album, ARTPOP , is due at some point this year, but has no release date. Meanwhile, a British tabloid is claiming that she plans to marry her boyfriend, actor Taylor Kinney , this summer.
In her last missive to her fans, Gaga wrote , "I'm alive, I'm living my dream, and this is just a bump in the road. I'm grateful because this is temporary, and for some it is not...if we stick together we can get through anything."
Copyright 2013 ABC News Radio