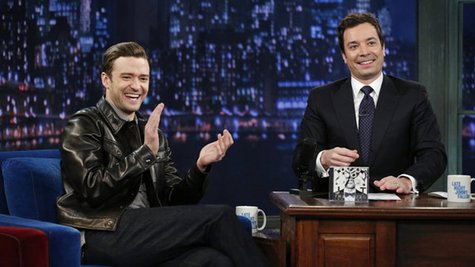 Justin Timberlake began an all-out media blitz for his new album 20/20 Experience on Saturday evening, with a guest host stint -- and music performance -- on Saturday Night Live . On Monday night, he made his first appearance as part of a week-long stand on Late Night with Jimmy Fallon , the first for any artist on Jimmy Fallon 's show.
Ahead of the Fallon taping Monday, JT made his fifth appearance on SNL , and in an opening sketch, Timberlake was welcomed into the "Five Timers Club" by celebs including former SNL cast members Dan Aykroyd , Martin Short and Chevy Chase , as well as others stars, including Alec Baldwin and Tom Hanks . I always have fun on that show," a slightly under-the-weather Timberlake explained to Fallon Monday, "But...it was like the list of cameos as the week went on kept getting bigger and bigger and bigger."
On another topic, During a performance of the album's single Suit and Tie on SNL , Timberlake seemed to knock Kanye West, by changing some lyrics to say, "My hit's so sick, got rappers acting dramatic." Last month, during a London concert, West rapped of JT's collaboration with Jay-Z , "I got love for Hova, but I ain't [expletive] with that 'Suit & Tie.'"
When Fallon pressed Justin for answers Monday, Timberlake neither confirmed or denied the charge he'd made the relatively tame comeback and instead played coy, and said "For the record, I absolutely love Kanye."
Justin closed out the Fallon appearance with the single "Pusher Love Girl." He'll perform every night this week, and also sit down for another interview on Friday's installment of Late Night .
20/20 Experience hits stores March 19.
Copyright 2013 ABC News Radio