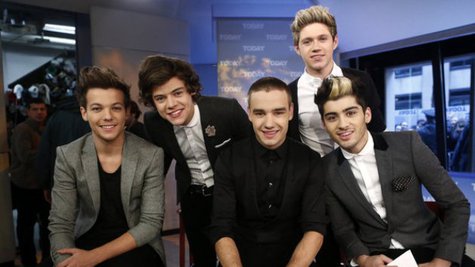 If you can't see One Direction in the flesh, soon you'll be able to see them in wax. The sculptors at Madame Tussauds famed wax museum have created wax likenesses of the guys, which will tour three of the museum's locations: New York City; London, England; and Sydney, Australia.
In a video interview, 1D's Zayn Malik says the honor is "insane," and adds, "Why are we five normal lads -- just, like, jokers -- getting these waxworks made of us?" An equally stunned Harry Styles says the idea of being made into a wax figure made him feel "a bit overwhelmed," adding, "It's crazy to think that we'll be up there" among the wax museum's other stars.
Liam Payne reveals that the guys were at Madam Tussauds looking at other figures when museum reps surprised them with the news that they were next. Niall Horan adds, "We were super excited to find out that they were actually making one of us...that people actually thought that we were worthy of one." As for 1D's Louis Tomlinson , he says, "It's gonna be quite weird to look at yourself as a waxwork but it's an amazing honor to be there."
While the guys consider Rihanna and The Beatles to be among their current waxed figure faves, they have suggestions for who else should be in the museum. Niall's vote is for Adele , but she's already been announced as being waxed in the near future. Louis suggested Ed Sheeran , while Zayn thinks John Mayer or Frank Ocean are worthy of the honor. Liam says Jay-Z would be a great addition to the museum's lineup. As for Harry, he says the late Mother Teresa should be waxed, but that's an honor she is reported to have declined prior to her death.
The figures will be on display at Madame Tussauds in London from April 18 to July 11. From July 19 to October 11, you can see them at Madame Tussauds' Times Square NYC location, and then they'll head to Sydney, where they'll be on view from October 24 to January 28, 2014.
Copyright 2013 ABC News Radio