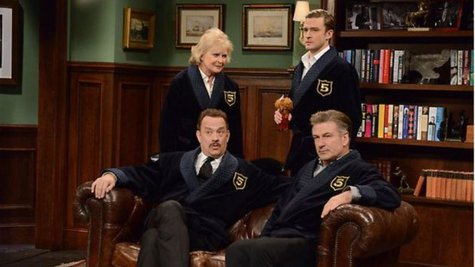 Justin Timberlake fans are thrilled that he's finally making music again, but one fellow Saturday Night Live "five-timer" wishes he'd just stick to acting: Alec Baldwin .
"Justin is one of those rare birds where it's, like, what a shame that he's such a musical superstar, because he really could have a great career as a movie star," Baldwin tells Vanity Fair Daily. The actor, who made a guest appearance this past weekend when Justin hosted SNL for the fifth time, insists the singer's talent would be better suited to "doing Hangover movies and crazy rom-coms to his heart's content."
"I mean, he can do anything," adds Baldwin.
Despite JT's multiple Grammy awards and platinum albums, Baldwin thinks music is just a distraction from his real talent. "You always see those musicians, it's like they have that little side job that they've got to go do," he says.
While Alec might not agree with Justin's career choices, that hasn't lessened his opinion of the singer. Baldwin says of their time together on Saturday, "I loved seeing him. He's a sweetie."
Copyright 2013 ABC News Radio