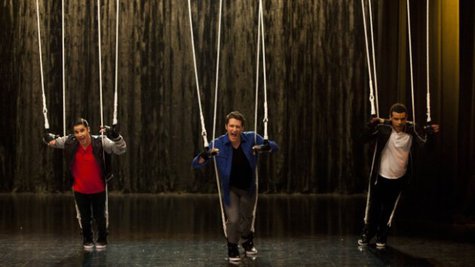 Great musical feuds are the theme of Thursday's Glee episode, titled "Feud." The episode features the New Directions kids giving out the assignment for a change: they instruct Will and Finn to perform songs by artists who've had beef with one another -- either on the charts or in real life -- in an attempt to work out the tension resulting from Finn's confession that he kissed Emma.
This results in Will and Finn and the guys performing a mash-up of 'N SYNC's "Bye Bye Bye" and The Backstreet Boys' "I Want It That Way," in an epic battle of the boy bands. Meanwhile, Ryder and Unique have some sort of disagreement, so they battle with songs by frenemies Elton John and Madonna : "The Bitch Is Back" and "Dress You Up," respectively. Last summer, Elton went on Australian TV and declared Madonna's career to be "over," her tour to be "a disaster," and the star herself to look like "a fairground stripper."
Meanwhile, the episode features songs by not one, not two, but three American Idol judges. Blaine and Coach Sue, feuding over Blaine's participation in the Cheerios, face off in a mash-up of Mariah Carey's "I Still Believe" and Nicki Minaj's "Super Bass," while Santana sings Paula Abdul's "Cold Hearted" to Rachel's shady boyfriend Brody.
Two songs by up-and-coming artists round out the episode: Rachel and Brody sing "How To Be a Heartbreaker" by British act Marina & The Diamonds , while Ryder and Jake sing "Closer," the latest single by Canadian identical twin sister duo Tegan & Sara.
Glee airs Thursday nights on Fox.
Copyright 2013 ABC News Radio