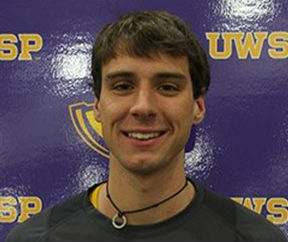 NEW ORLEANS, LA (UWSP) - The U.S. Track & Field and Cross Country Coaches Association (USTFCCCA) announced Wednesday that UW-Stevens Point's mid-distance runner Dan Sullivan (Elkhorn, WI/Elkhorn) has received the 2013 NCAA Division III Men's National Indoor Track Athlete of the Year award, as voted on by the nation's coaches.
Sullivan broke the NCAA DIII Indoor Championships record in the mile run with a time of 4:07.03 en route to an individual national title in the event. His performance beat the previous record by over a second, 4:08.19, which was set in 2007 by Will Leer of Pomona-Pitzer.
Coming into the national event, Sullivan held the top seed in the mile at 4:08.76. He was undefeated in three mile finals this season, including capturing a Wisconsin Intercollegiate Athletic Conference (WIAC) title. Earlier this season the junior also recorded the fifth-fastest 800 meter run time in Divison III of the season, with a time of 1:51.94.