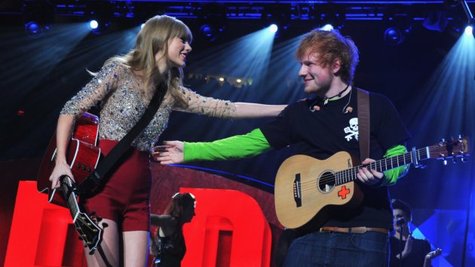 Ed Sheeran has denied that he and Taylor Swift are dating, but he won't deny that he spent an entire night in her hotel room last month. However, the singer has now explained just what he and Taylor were doing in there...and it didn't involve anything that Taylor might write a song about.
Speaking to New Zealand's Seven Sharp TV show, Ed said, "I did go to her hotel. I did stay there 'til four, and I did leave in the same clothes, but I was playing her my new record. It was strictly that kind of thing. Literally, we sat down, passed the guitar back and forth and played songs to each other."

When asked if he didn't at least try to steal a kiss, Ed laughed, "I'm a professional!" but added, "I gotta be honest. One of my best friends did date her" -- he's talking about Harry Styles -- "and I'm not that kind of a guy."
Ed does admit, though, that he was "impressed" that people actually believed he and Taylor could date, considering he's not your standard sex symbol type. In fact, he told Seven Sharp that he was horribly bullied in school as a kid due to his red hair: in England, being "ginger," as it's called, is often something that kids get teased about.
"I was quite a weird kid when I was little. I wore big glasses, had hearing problems, had a stutter and I had ginger hair," Ed revealed. "But I am now a successful musician and I have nothing to complain about...I've come out the other end and blossomed."
Ed and Taylor are currently on the road together on her RED tour.
Copyright 2013 ABC News Radio