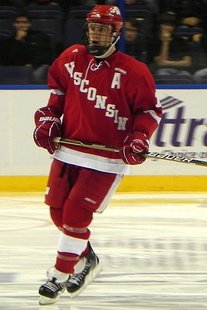 MADISON (WSAU) The Wisconsin men's hockey team clinched its berth in the WCHA Final Five with a sweep of Minnesota-Duluth. The Badgers won their second straight yesterday with a 4-1 decision at the Kohl Center.
Tyler Barnes had a goal and an assist as Wisconsin improved its overall record to 19-12-7. The winners got off to a hot start, scoring three times in the first period on goals by Jefferson Dahl, Michael Mersch and Kevin Schulze. Joel Rumpel had 29 saves in goal.
The Badgers outshot the Bulldogs 35-30.