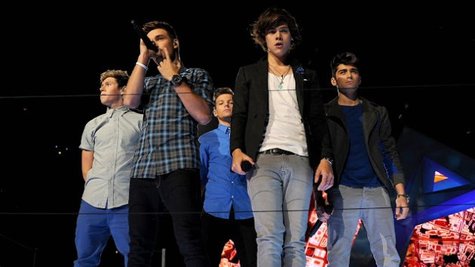 Of course One Direction is one of the hottest bands on the planet... or are they? In a recent charity auction to benefit London's Roundhouse theater, a chance to meet up with the guys went largely unbid upon, finally selling for much less than organizers initially anticipated, reports Vanity Fair .
Organizers of the posh annual auction anticipated the 1D meet-and-greet package was going to trigger a bidding frenzy among the deep-pocketed patrons in attendance. Organizers even saved the 1D package for the auction's big finale in anticipation of topping off the evening on a high note, but that strategy fell flat.
Bidding began at about $7,500. After a lackluster response and no bids, the auctioneer for Christie's quickly dropped the asking price all the way down to $1,500.
To encourage offers, British comedian Harry Enfield even joked with the crowd, asking "Don't any of you have spoiled daughters?!" Good thing he did. The 1D meet-and-greet was auctioned eventually for just under $3,000.
Copyright 2013 ABC News Radio