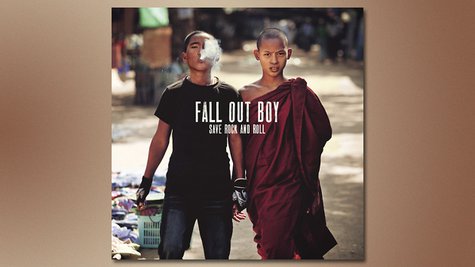 Fall Out Boy has released the cover art for their new album, Save Rock and Roll .
It features two young boys in Burma: one is wearing monk-like garb and staring into the camera, while the other is clad in jeans and a black T-shirt, blowing cigarette smoke. It's an altered version of a photo taken by Roger Stonehouse .
Fall Out Boy posted the artwork on their Tumblr page , noting how they came across the "punk and monk image" on the Internet.
The band writes, "It really solidified what we were trying to get across on the record -- the idea of old and new clashing. tradition and change coming together....these kids represent the youth, change and irreverence that we hope our record is listened to with. at the end of the day we just want to take the rules and start all over with save rock and roll anyway."
Fall Out Boy's reps confirmed last week that Elton John has collaborated with the group on a track for Save Rock and Roll , which is due out April 16.
Copyright 2013 ABC News Radio