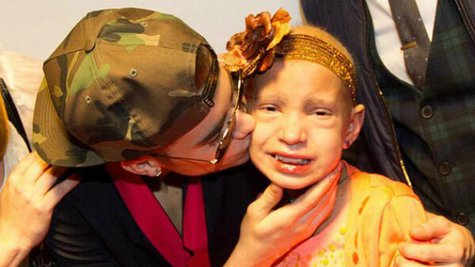 Between concerts, Justin Bieber spends a lot of time meeting and greeting fans, including those who are gravely ill. Unfortunately, that occasionally leads him to deliver the bad news that one of those fans has passed away.
"just got news about little Briana. I was honored to meet her. I know she is up in heaven smiling," Justin tweeted this week, adding the hashags " #ripBriana" and " #love." He also included a photo of himself planting a kiss on Briana's cheek.
E! Online reports that "Briana" is 11-year-old Briana Tejada , who died of leukemia on Sunday. She was just 11. Justin met her backstage in Nashville in January, and her parents described the meeting on Facebook as "a dream come true" for their daughter. The singer also made two videos for Briana, in which he said, "Thank you so much for believing in me and being a big fan. And I'm your biggest fan, and I love you so much."
After Justin tweeted about Briana's passing, her parents tweeted back, " Thank you Justin. Our family and specially us parents are very grateful." He responded , "Meant what I said. She is smiling down from heaven. :)"
Copyright 2013 ABC News Radio