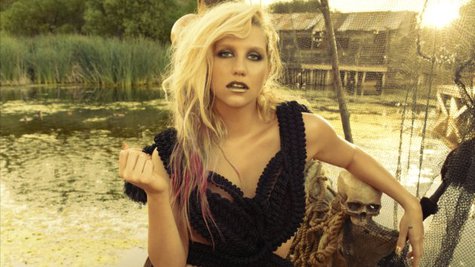 Ke$ha called her debut album Animal , and her nickname for her fans is "animals." As most fans know, that's not just lip-service: the singer is devoted to animal rights and animal issues.
"If you follow my music, you know I'm a bit of a jackass," she tells Billboard . "But this is one part of my life I take really seriously. Helping animals has always been my goal."
She'll be rewarded for her efforts this weekend in L.A. when she receives the Humane Society of the United States' prestigious Wyler Award. Past winners have included Paul McCartney and Ellen DeGeneres .
Ke$ha, who in 2011 was named the Humane Society's first-ever global ambassador, has raised awareness of animal issues while traveling the world, and she's not afraid to get her hands dirty. Billboard reports that during a visit to a South Pacific Island, Ke$ha actually contracted scabies when she tried to separate two abused street dogs that had been glued together.
"I was calling the Humane Society in the middle of the night and nobody was answering," Ke$ha tells Billboard. "I bitched about it to enough people that they ended up sending a whole help team of volunteers."
Earlier this month, Ke$ha and other stars like Colbie Caillat endorsed the Humane Society's "Be Cruelty Free Week" campaign, which urged people to shun cosmetics tested on animals.
Copyright 2013 ABC News Radio