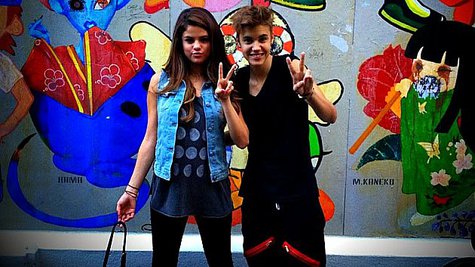 Selena Gomez and David Letterman shared a laugh over her ex-boyfriend, Justin Bieber , on CBS' Late Show Monday night.
Gomez, making an appearance on Letterman's program to promote her new movie Spring Breakers , was asked about her relationship status. The late-night host said, "I remember the last time you were here, you were with a Justin Bieber....And that's not going on now?"
The 20-year-old Gomez replied, "No, I'm single. I'm so good."
Letterman then remarked, "The last time he was on, he and I got into a conversation, and he said something and I said something and then he said something and then I said something, and I made him cry."
Without missing a beat, Gomez said, "Well, then, that makes two of us." That line got a laugh out of Letterman and the studio audience, and he gave her a fist bump. Unfortunately, the smiling Gomez didn't expand on her comment.
When Bieber appeared on the Late Show last June, Letterman grabbed Bieber's arm while commenting on the pop star's latest tattoo. Bieber yelled "Hey!" multiple times and declared, "This is brand-new!"
Gomez and Bieber reportedly split in December after dating for more than two years. Selena's movie, Spring Breakers , expands into wide release this Friday.
Copyright 2013 ABC News Radio