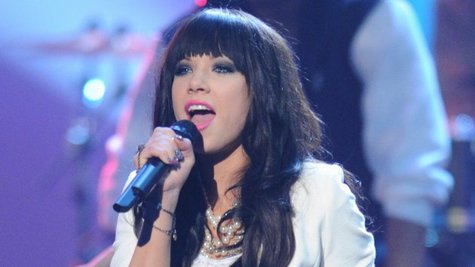 Carly Rae Jepsen is the latest artist to partner with American Idol for Coca-Cola's Perfect Harmony competition which allows fans to collaborate with Carly in the creation of a brand-new song.
Starting now through May 14, fans ages 13 and up who visit AmericanIdol.com/perfectharmony can give their input this week for a brand new song, which Carly will perform during the American Idol finale on May 15. In addition to voting on lyrics for the song, fans will also be able to weigh in on the set design, wardrobe and stage effects for Carly's performance. Fans who participate will be entered into a sweepstakes where the grand prize is a trip to the American Idol finale to watch Carly sing the newly-created song.
In a statement, Carly says, "I've collaborated on songs with people via e-mails, telephone calls and text messages, but the Coca-Cola Perfect Harmony program takes it to another level because people across the country can join in on the fun. I can't wait to create a new song with my fans."
The Perfect Harmony competition launched in 2011 with Taio Cruz , and continued in 2012 with Jason Derulo .
Copyright 2013 ABC News Radio